I've been working a lot on focusing on things that make me calm and still seem productive. That means that I've been doing a lot of homeschooling with my almost 14 month old daughter, Gorgeous. I tend towards a Montessori background when it comes to my parenting/teaching style and I find that it can be very inexpensive.
Here's our temporary setup for her enviornment in the living room:
In front of the tv (which is usually set to seasonal or toddler tunes music choice during the day) we have this: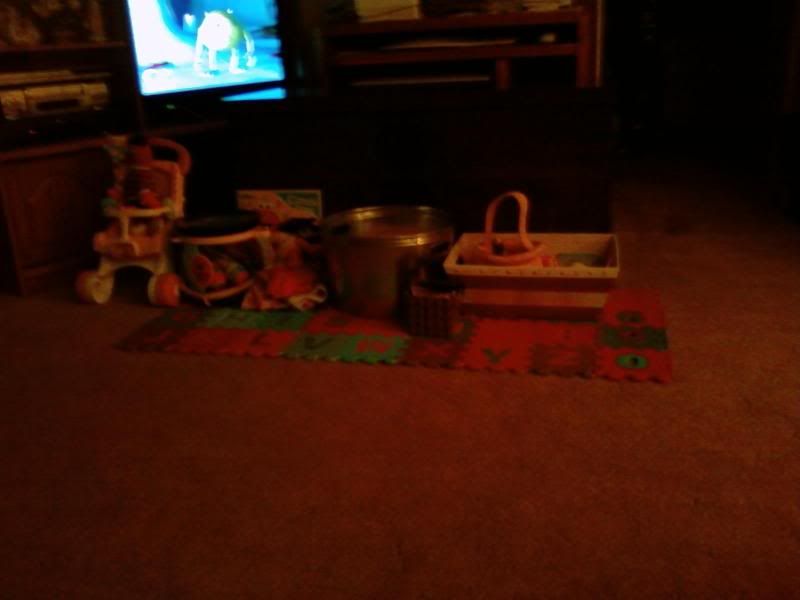 We have her favorite Ernie doll in the stroller so she can be like Mommy and push a baby around (while working on walking), her music station (Elmo's Piano and a drum filled with various musical instruments), Big Bird and some old recieving blankets, a galvanized tub filled with various purses and containers that she can put treasures into and out of (I also store her dummy phone in one purse, her button string in another, and her treasures in an old coffee tin-she even has a "picnic basket" filled with fake food), a small purple container she can tote around (currently holding a bumpy gourd), and a striped container that stores her alphabet mat when not in use and her pink sock monkey container, some books, and an egg with her favorite duck inside otherwise. The pink sock monkey container holds her Abby Cadaby wand (for her Halloween costume), her "Happy Hippo" (a squeaky pink hippo), and her grapes vibrating teether.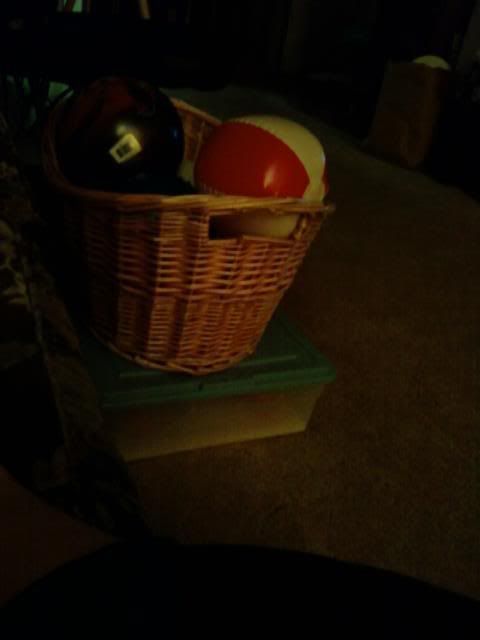 Across from this station and next to my usual sitting space is a big basket full of a variety of bouncy balls, tennis balls, and stress relief balls plus a couple of old paper towel holders. This sits on top of our sensory tub. Inside the sensory tub is, of course, our sensory items and a blanket we put down under her when she plays with it so we can catch the thrown rice.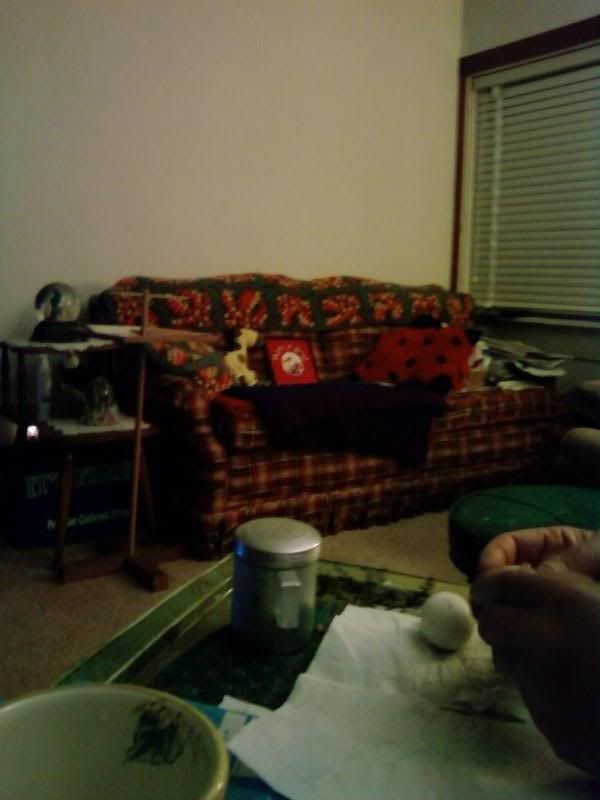 Our last area is a cozy area on the other couch. I put a blanket down, a few books in the area, a big pillow pal, and a giraffe that she adores.
Oh, and I have a bunch of books next to grandpa since she likes to try to get into the area behind them. This is my way to try to allow her access to the space in a positive way.
To add some science into her life Daddy found a praying mantis in our yard and put it into an old terrarium he had with some crickets he caught for the food. Every meal we sit down and watch the bugs interact while we eat. She loves it!
I'm also working on some routine charts for her and will incorporate some seasons, weather, and calendar work within the next 6 months. Unless I end up having to get a conventional job I plan on doing this as long as she lets me homeschool her!
I find that homeschooling, especially in the preschool years, can be the best frugal choice that instils lasting values in your children.